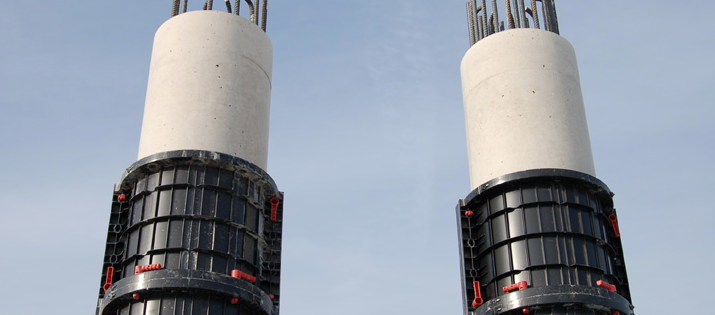 Conventional timber formwork and the use of cardboard tubes is both time consuming and expensive. This is especially true when you're coordinating a large multi-level construction which requires numerous round columns all of the same size, such as with an underground car park.
Needing to arrange a professional formworker into your build schedule will often result in the lengthening of your project timeline.
Conventional cardboard formwork is also extremely wasteful. All that cardboard you've paid for just ends up in landfill once peeled off your concrete columns.
The good news is that there is a way to save time and money in your project by using a plastic modular formwork system such as Geoplast.
Each Geoplast panel connects together using tool-free nylon locking handles. This greatly reduces the requirement of skilled labour and man power and provides fast and easy forming of round columns.
Here's 5 ways you'll save time and money in your next project by using plastic formwork…
#1 - Save money by reusing each module
The lifecycle cost of a plastic formwork system is far, far lower than conventional timber or cardboard formwork methods. Geoplast formwork can be reused over 100 times with a fast payback period. So you can recoup the purchase cost quickly, and take more profit home at the end of the day.
It's almost much cheaper upfront compared to cardboard formwork.
Here's an example scenario…
Let's say you need to construct 150 round concrete columns for an underground car park.
If you were going to use cardboard formwork for the job, you'd be looking at having to purchase 150 single-use tubes at around $240 each. This would set you back $36,000.
Instead, if you were to use Geoplast, you'd only have to purchase 15 modules to get the exact same job done in the exact same amount of time. Each module would get re-used 10 times to complete the project.
For this, you'd be looking at paying $1,300 each for 15 modules. This would cost you only $19,500.
Plus, the modules you've just purchased can be used again and again for any other projects you have planned in your pipeline.
#2 - Save time with fast set up of every column
Geoplast modules are extremely quick to assemble. Anyone can use the nifty hand-operated locking handles. No special carpenter skills needed. So your project won't ever get held up by having to wait on a formworker to be on site.
Once you've assembled a module, you can use it once, unclamp it, then immediately move on to the next round column. It doesn't get any quicker than that!
You can imagine how much time you can leverage when your constructing multiple columns which are all the same height and diameter.
Another key way that Geoplast saves you time in your project is that you don't have to coordinate the craning in of formwork once the steel re-enforcing for a column has been erected. Bending (cranking) the top of the steelwork out to integrate with the slab that is to be poured above can be done easily as each Geoplast module is removable.
You also don't need to worry about the time-consuming assembly of timber bracing. Instead, you can just use temporary aluminium Acrow Props to prop up Geoplast modules which are much faster and easier to set up.
#3 - Save money on crane costs
If you use conventional types of formwork, you're stuck having to rely on cranes to move the formwork around site and into position.
Crane operators are expensive, and at times can be unreliable.
At 11 kg max per module, Geoplast is super strong AND super lightweight.
Any average Joe on your work site can easily carry and lift Geoplast panels.
Without having to rely on cranes, you can utilise the manpower you already have working on your project which represents a huge cost saving.
#4 - Save time on having to remove and dispose of formwork
Needing to dispose of timber or cardboard formwork once your concrete columns have set is incredibly time consuming.
If you're using cardboard formwork, having to use a circular saw to cut each tube and painstakingly peel it off is just tedious work. Then arranging for the waste to be removed from the work site takes up even more man hours.
Geoplast modules can be quickly unclamped, whisked away on a truck and moved into storage for your next project.
#5 - Save money on transport costs
Single use cardboard formwork tubes, as well as the supplies to construct timber formwork, are bulky and costly to transport. You need a lot of pallets to get your formwork from point A to point B.
On the other hand, Geoplast modules are completely stackable. They easily fit onto pallets for efficient transport and storage. You can usually fit enough modules to make two round columns onto the one pallet.
And as mentioned above, each module weighs less than 11kg. This makes for a compact and light load, meaning you're going to see significant savings in your transport costs.
Ready to learn more about saving time and reducing your formwork costs in your next project?
The Geoplast formwork system is available for not only round column formwork, but square, rectangle and oval columns as well as panel formwork for building walls, foundations and pits.
For more information, simply click here to get in touch with the Allcon team.