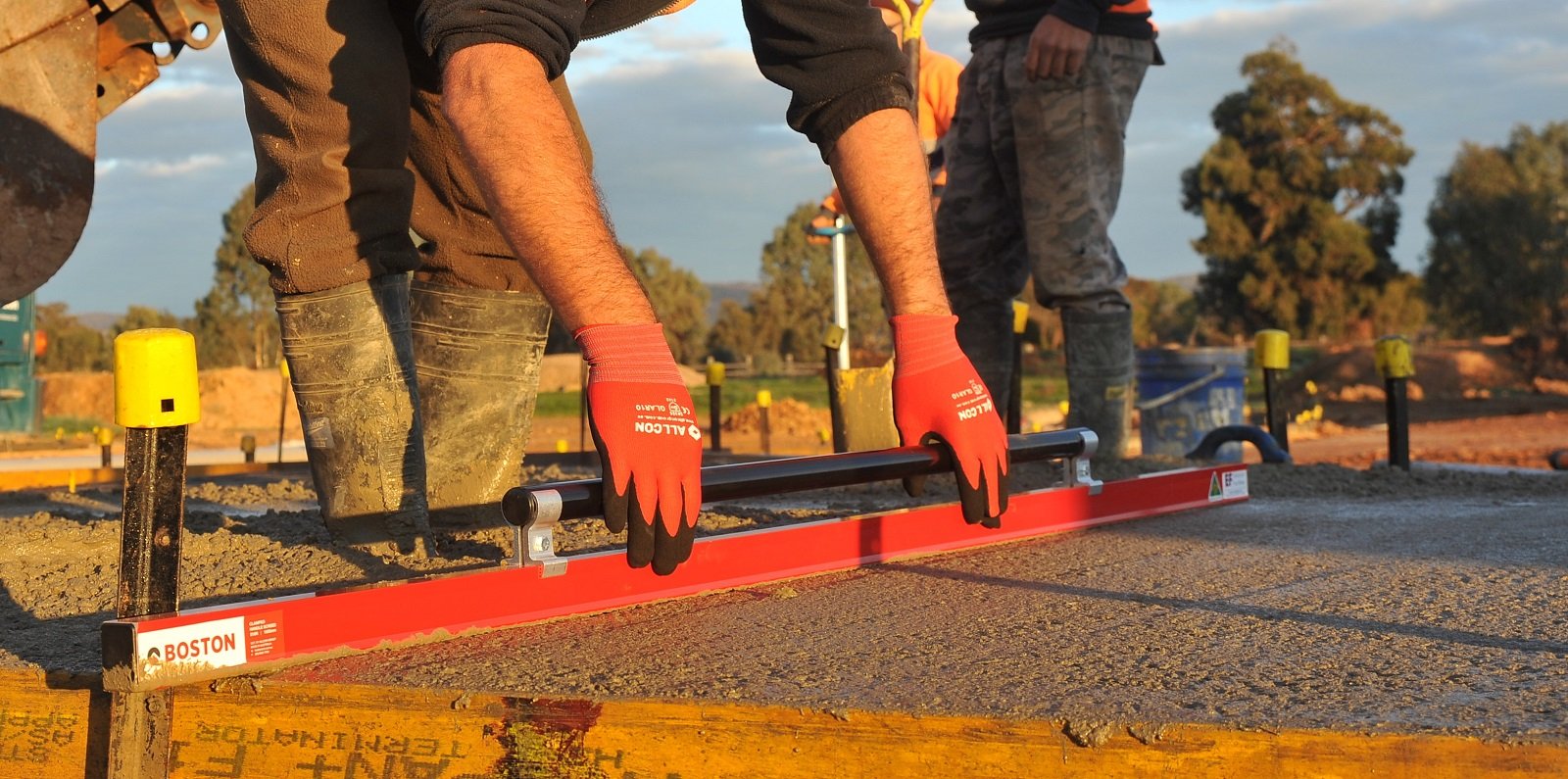 Ever thought about tying your shoe laces without fingers? What about trowelling, screeding, patching? It would be impossible!

Our fingers and hands are our most important tools, but do we put enough emphasis on protecting them correctly?
Personal protective gloves come in many different types and styles, depending on their specific protective role. It's important to make sure you are wearing the right gloves for the job you're working on to avoid causing damage to your hands.
Read on to find out how to make sense of the numbers marked on the back of your gloves.
EN388 rating
Most gloves designed for construction workers will be tested to EN388, or the mechanical glove guide. This is the de-facto standard used and referenced in most parts of the world. It tests the following characteristics:

• Abrasion resistance
• Cut resistance
• Tear strength
• Puncture resistance.

The results of these tests are displayed on the back of your gloves, normally indicated by the following symbols and numbers: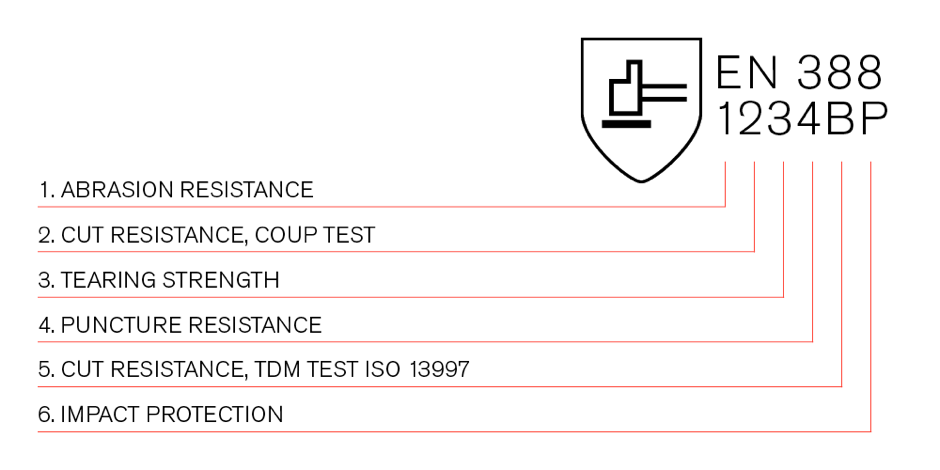 1. Abrasion resistance: This test involves subjecting the glove to abrasion by sandpaper under a determined pressure. The protection level is indicated on a scale of 1 to 4, depending on the number of turns required until a hole appears in the glove material. The higher the number, the better the resistance to abrasion.

2. Cut resistance (coup test): In this test, a knife is passed over the glove material until it cuts through. The protection level is rated on a scale of 1 to 5, with 5 indicating the highest level of cut protection. If the material dulls the knife during this test, the TDM test ISO 13997 shall be performed instead - see point 5 in the section below.

3. Tearing strength: This measures the force required to tear the glove material apart. The protection level is rated on a scale of 1 to 4, where 4 indicates the strongest material.

4. Puncture resistance: This measures the amount of force required to puncture the material of the glove with a sharp tip. Puncture resistance is rated on a scale of 1 to 4, where 4 indicates the highest resistance.
EN388:2016
In 2016, the EN388 standard was revised to include two further tests:

• Cut resistance – TDM test ISO 13997
• Impact protection

5. Cut resistance (TDM test ISO 13997): Some gloves featuring glass or steel fibres can dull the knife blade during the coup test referred to above. If the knife gets dull during this test, the TDM test ISO 13997 test will be performed instead. The result is given by a letter, A to F, where F indicates the highest level of protection.

6. Impact protection test: This test is intended for gloves designed for protection against impact. Gloves that do not offer impact protection will not be subjected to this test. There are three potential ratings that will be given:
• P – Passed
• F – Failed
• X – Not Tested
Are EN388 gloves now redundant?
EN388 gloves are still perfectly fine to use, provided your task or workplace doesn't call for gloves which have undergone the additional 2016 testing. The TDM test is only required if the gloves you are using feature glass or metal fibres which usually results in ultra-high cut protection from knives and blades.

The impact protection test is only carried out if your gloves require impact protection, therefore gloves which do not offer this protection do not require this testing.
Making it easy…
Allcon's premium nylon protective gloves feature a latex GripMaster coating designed to protect whilst still providing grip and dexterity. Here's a quick run down of our range of gloves and their levels of protection:

GLAE – Economy Series
Our economy series glove is a general-purpose glove perfect for general site works.

EN388 rating: 2131
GLAR – Premium Series

Whilst these gloves look similar to the economy gloves, they offer higher tear and puncture resistance. The glove also has a different fabric to help the glove breathe better.

EN388 rating: 2142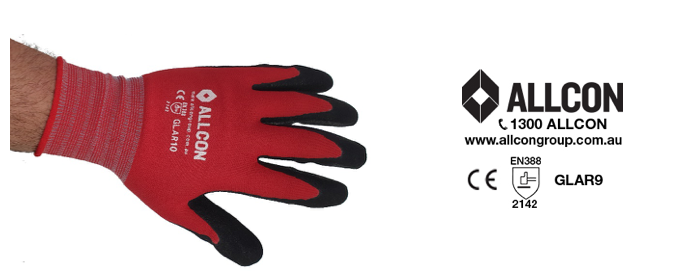 GLAC – Cut Resistance Series

As the name suggests, these gloves feature a higher cut resistance than our other gloves and has become very popular due to the increased awareness around cut resistant gloves.

There are two different types available with different cut levels:

1. EN388 4344
2. EN388 4544

Need expert advice on which type of protective gloves you need? Talk to the team at Allcon.
We're a family business with over 100 years' collective experience in concrete construction equipment. So we know all the hard truths about concrete.

For more information about protective gloves, simply click here to get in touch with us today.